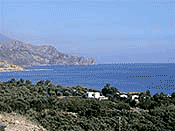 The old name of the Paleohora was Selino Kastelli because of the Venetian castle which was built in 1279 A.D. on the tip of the peninsula to control the two bays to the east and west. In 1539 the pirate Barbarossa conquered and destroyed it. In 1645 the Turks with some work managed to adust it to their own needs. Robert Pashley, the english traveller, found the castle in 1834 completely ruined and the whole area uninhabited, with only a few small buildings left.
In 1866, Paleohora begun to be populated again and must have taken its name from the old buildings of the venetian settlement called "Vourgo" (Palea Hora = Old Town).
Today the castle has been renovated and attracts thousands of visitors every year. Paleohora in our days is a developing touristic town, the second larger in Southern Crete. Located on the southwest coast of Crete and at the base of the white mountains, on a promontory with the sea and the beaches on either side, it has crystal water sea shores, well organized beaches as well as lovely desolated coasts. There are excellent restaurants here, tavernas serving greek and local cuisine, small traditional cafes as well as entertainment centers.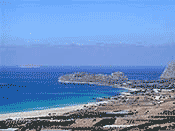 In the old town with its narrow streets shaded by mulberry trees, traditional authentic Greek life continues side by side with contemporary activities. The locals are mainly involved in tourism during the summer months but to a large extent, fishing and tomato growing also supplements their income.
There are many places of interest within easy reach of this resort. Visit the ruins of an old Venetian castle atop a small hill above the village, or the numerous Byzantine churches with their splendid frescoes, or hire a mountain bike and find a secluded cove along the varied coastline. It is one of main resorts closest to the famous Samaria Gorge and you will not mind the strenuous walk down it, knowing that there will be a boat waiting to take you right back to Paleochora. Other excursions include a daily trip to the excellent Elafonissos beach, and on certain days, a trip to the island of Gavdos, the most southerly part in Europe.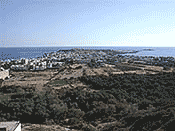 Dwelling in Paleohora is a piece of cake, thanks to the big number of hotels, appartments and rooms for rent available. The warm hospitality of the locals and their friendly tamperament, make visitors feel like a part of their soul stays in Paleohora.
But what is unique here is the night time, when the central area closes to traffic and all the restaurants spill out into the streets and the squares. Along the sea front many restaurants have tables on the waters edge and to sit and enjoy a nightcap here will surely prove to be irresistible. So... in this magical place, Paleohora is waiting for you, to have a drink to some of its bars, or to have fun till morning time to one of its clubs...