Grecian.net Home
This site provides all you want to know about Greece, in hundreds of pages of History, Geography and real time information which includes a phone directory of Greece, the Greek postal codes, access to the news, live radio and Cretan music history. We provide everything you need for perfect Greece vacation, including information on Greek islands, weather and more.
Eternicom gives you possibilities to learn motivation and communication.



The Greek Postal Codes. The updated files. Total number of records in the database: For the large cities (Athens, Chania, Ioannina, Iraklio, Kavala, Larissa, Patras, Piraeus, Thessalonica, Volos) are 40808 and for the countryside are 13957. No permission is needed to use this data.

Media broadcasting.
Radio Station: live streaming
Internet only radio: This is a very popular way to own a Radio Station.
TV live streaming
Event streaming
Featuring


Under Pressure is a company in Crete which produces carbon fiber spear guns, diving gear and offers freediving courses sanctioned by AIDA International.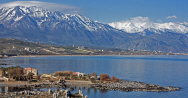 Most of the world's oldest civilizations were born on the banks of some great river, but European civilization flourished thanks to the sea. It's the Greek sea that the Romans enviously named Mare Nostrum. With the sea surrounding three parts of their country, the Greeks established contact with the people of Asia, Africa and the rest of Europe at a very early stage. Thus, they attempted distant journeys not merely to trade but also to see and learn and in short, were the first to engage in what we could call tourism. Read more »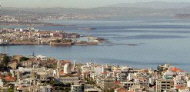 The city of Chania is built according to archaeological searches, on the ruins of a big ancient town. The evidence up to now leads us to the ancient Kydonia which, according to Diodoros Sikeliotes, was founded by Minoa and was one of the three big towns of Crete. Its name is read KY-DO-NI-JA on a Knossos table of Linear B Scripture. The Kasteli hill, east of the port, owing to the fact that it was adjacent to the sea, made an ideal position for prehistorical settlements. Architectural remains that have survived and belonged to big buildings start at the early minoan period (1900-2200 B.C.). Read more »