Capital of the Lasithi prefecture, Aghios Nikolaos is a modern town built on the northwestern point of the Mirabello bay. It is the administrative, cultural and communications centre of the prefecture and attracts many tourists because of its picturesque harbour and the many interesting sites of the surrounding area. It has many high quality hotels and rooms, of every kind and in a wide price range, as well as beautiful beaches, a good road network and frequent bus services linking it to destinations both within the prefecture and beyond it. Today it is a cosmopolitan centre throbbing with life, with elegant shops, restaurants, tavernas, bars, discos etc., where one can spend unforgettable holidays and indulge in a wide variety of interesting and enjoyable activities. Aghios Nikolaos is built on the site of the ancient town of Lato towards Kamara, which was a seaport of Lato Hetera (the Other Lato). It flourished during the 3rd century BC and, being an autonomous city, it minted its own coins. During the Roman and early Byzantine periods, it continued to flourish and is mentioned as a bishop's see in the 6th century AD.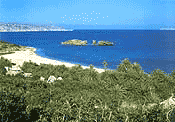 After this time, our information concerning the town grows scant and we only find it mentioned again during the Venetian period, when the Venetian occupiers built the Mirabello (meaning "lovely view") fortress, on a hill near the sea-where the Prefecture headquarters are situated today- in order to protect the small port.
In 1645 the fortress was taken by the Turks, then recaptured by the Venetians who burnt it down. After that, it was no longer inhabited. At the same time, the Venetians had built another, more protected port, in the Elounda area, to the northwest, which they named "Porto di San Niccolo".
The town was deserted during the Turkish occupation, but its harbour still continued to be used, and was known as Mandraki.
During the later years of Turkish occupation, a small settlement grew up around the port, which took the name of Aghios Nikolaos from the old domed church with a single nave, dedicated to Saint Nicholas, which stood on the small peninsula in the harbour.
The "trademark" of Aghios Nikolaos is the Voulismeni lake in the middle, which is linked to the sea by a canal. This is particularly picturesque part of the town, with many outdoor coffee-shops and restaurants all along the coast.