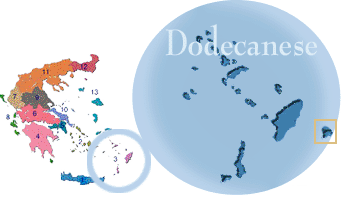 Modern Greek DHODHEKANISOS, group of islands in the Aegean Sea, off the southwestern coast of Turkey,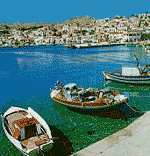 and constituting the nomós (department) of Dhodhekanisos, Greece. The city of Rhodes is the administrative centre. The name Dodecanese means "12 islands." The term has been applied at various times to groups differently composed and numbering more than 12.
The islands' substantial economic deficit has been cut gradually by increasing tourism. Except for Rhodes and Cos, the Dodecanese suffer from deforestation and poor drainage. Their crops fruit, tobacco, olives, and wheat have varied from marginal to enough to export, and the principal nonagricultural occupations of the islanders fishing, shipping, sponge diving are still underdeveloped. The islands have benefited, however, from the remarkable development of tourism in the principal islands of the group.

The islands were a part of the ancient Greek world, and Rhodes and Cos have long histories. In neither the Hellenistic nor the Roman Empire periods did the islands function as a single political or geographic unit. In the Byzantine Empire the theme (province) of the Dodecanese included the Cyclades islands as well.
The Dodecanese group came to be fixed at 12 islands during the long Turkish administration of them, which began in the 16th century. The Turks recognized 12 of the islands, "the 12 Sporades," as being entitled to special treatment since they had voluntarily submitted to Turkish rule. But the larger and richer islands of Rhodes and Cos had submitted involuntarily to Turkish rule and were given no special privileges. Turkish rule of the islands lasted until May 1912, when during the Italo-Turkish War Italian forces seized the islands except Ikaria (which was occupied by Greek forces in November) and Kastellorizon (which remained Turkish).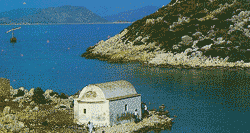 Secret treaties on the future of the islands, drawn up by the Allies during and after World War I, led to a dispute between Italy and Greece over which nation should have jurisdiction over the islands. In 1919 an agreement was reached whereby Italy would cede the Dodecanese to Greece with the exception of Rhodes, which was to have broad local autonomy. Subsequent Italian governments, however, unilaterally denounced the accord with Greece and refused to carry it out, and Italy used a special article in the Treaty of Sevres (1920), whereby Turkey had ceded to Italy all rights and titles to the Dodecanese and Kastellorizon, to enforce its claim on the Dodecanese. Italian sovereignty over the islands was confirmed by the Treaty of Lausanne (1923).
Italian rule over the Dodecanese was firm and efficient but never popular. Italian became the official language, and in 1925 the Dodecanesians were obliged to take Italian citizenship. As a result, considerable migration from the islands to the United States occurred. After World War II the islands temporarily came under British occupation, with Greek participation. The conference of foreign ministers in Paris agreed in 1946 that the islands should pass to Greece; they were formally ceded in 1947.