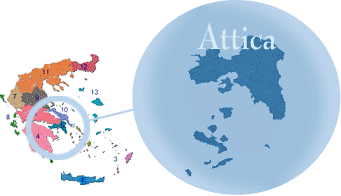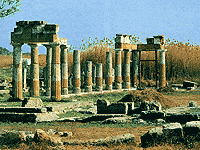 Attica, ancient district of east central Greece; Athens was its chief city. Bordering the sea on the south and east, Attica attracted maritime trade. In early times there were several independent settlements there, centring on Eleusis, Athens, and Marathon. Athens may have been paramount in the Mycenaean age, but in the historical period it did not completely control Attica until the 7th century. The modern department (nomos) of Attica has its administrative centre at Athens and extends farther west than the ancient district, taking in Megara on the Isthmus of Corinth.
But Athens isn't just the Acropolis. Athens isn't just the squares at Syntagma and Omonia. And Attica isn't only Athens. Athens is made whole by the whole of Attica.
And it's such a lovely place to get to know.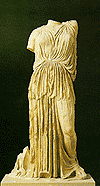 So many things await you: the majesty of Cape Sounion, the quest for luck or nature on Mt. Parnes, sophisticated surprises on the ships at Piraeus or in its tavernas, Byzantine mosaics and gushing wine at Dafni, history at the tombs at Marathon, the sun setting into the Saronic Gulf, stalagtites and stalagmites at Koutouki, the ancient theatre at Rhamnous, Byzantine gardens and mystical initiations at Kaisariani, modern life cheek by jowl with ancient memories and monuments at Elefsis, Vrauron, Amphiaraion, Thorikos.
Start getting to know Attica from its sky and mountains all the way down to its marinas. Take a boat and get to know Attica from the sea. A luxury liner will take you from Attica into the deep blue Greek sea and introduce you to its multifaceted islands.
You'll travel everywhere, most of all in a dream.