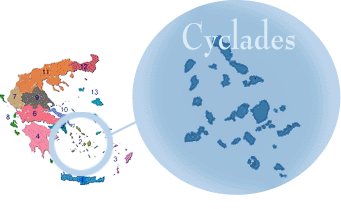 Some 30 islands making up the department of Cyclades, Greece, in the Aegean Sea. Ermoupolis, the capital, is on the island of Syros (Siros). The islands, which have a total land area of 2,523 square km, are peaks of the submerged mountain ranges of Greece. In antiquity they were the centre of a Bronze Age culture, the Cycladic, noted for its white marble idols.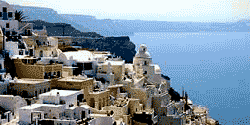 The name Cyclades means "encircling islands," and they are so named because they form a rough circle around the sacred island of Delos the legendary birthplace of Artemis and her brother Apollo. Virtually all of the islands have some archaeological interest.
The earliest inhabitants of the Cyclades are believed to have been Carians (from the ancient district of southwestern Anatolia [now Turkey]). According to the Greek historian Thucydides (fl. 450 BC), the Carians were expelled from the islands by King Minos. The Greek historian Herodotus says the Carians were subjects of Minos and that they were expelled from the islands much later, by the Dorians and the Ionians.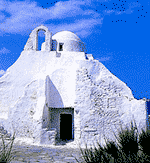 The rich material culture of the Bronze Age is much in evidence throughout the islands, and on many of the islands are found remarkable and characteristic (mostly female) figurines. The islands were colonized by Ionians in the 10th and 9th centuries BC, were overrun by the Persians in 490 BC, and over time were under of the rule of virtually every power in the region, including the Crusaders, who in 1204 gave the Cyclades to Venice. The islands were ransacked for antiquities in the 17th century, an activity halted by the Greek Civil War. They enjoyed relative stability for a century until the Russo-Turkish wars, but they also suffered damages and occupation during World Wars I and II.
Náxos , the largest and most fertile island, and the highest, produces fruits, nuts, and wheat and exports emery. Kéa and Íos furnish valonia (from the valonia oak, Quercus aegilops) for tanning; Syros has tanning, shipbuilding, and weaving. Kímolos produces fuller's earth and flint, and marble is quarried on Tínos. Iron ore is exported from Sérifos, manganese and sulfur from Melos (Mílos), pumice for cement from Thera, and manganese from myconos as well. The islands also export wines, brandy, tobacco, hides, pottery, and handicrafts. The islands were being rapidly depopulated until the development of tourism.