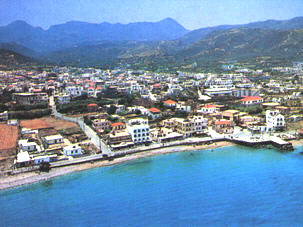 Kisamos is surrounded by beautiful landscape and has about 10.000 inhabitants. As anywhere on Crete its history goes far back and myths and tradition are still alive.
Life is passing quietly in the town and you forget the noice of the city in its good hotels, apartments and private rooms. Its hospitality and touristic facilities in Cretan atmosphere provide whatever the visitor needs.
The port of Kisamos links Crete to the nearest island of Kythira, the Peloponnese, (Kalamata, Gytheion) and even Piraeus. There Banks, Post-Office, Bus-station, Telephone-centre (OTE), Health-centre, Camping-site, Car and Motorbike rental offices, as well as shops for leather, gold, folk craft, woodcarving etc. Don't forget to try the delicious dishes of the Cretan traditional Kitchen, fresh fish from the bay, and last but not least the famous Kisamos wine.
With Kisamos as a starting point you can visit the archeologigal site of Falassarna, Polyrrinia, the Gramvousa Isles (Pirate isles with citabel), the beautiful gorges of Topolia, Sisricari, the overlooking cave of St.Sophie (Agia Sofia), the lagoon of Balos, the medieval villages etc.
The crystal-clear sea and the vast sandy beaches of Kisamos make your holiday a unique pleasure...