Komotini is a garrison city, only 22.5km from the Bulgarian frontier, and the capital of Rhodope and Thrace as well, having pleasant broad streets and squares.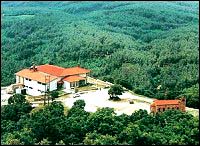 It is a flourishing market centre (ca 45,000 inhab.) for tobacco, cattle, hides and agricultural goods (annual livestock fair in Holy Week). The city is linked by bus and train with Athens, Thessaloniki and all major cities of Greece. An Olympic Airways bus connects with one flight a day from Alexandroupolis.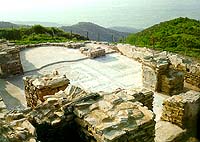 The walls of a Byzantine fortress are to our left on entering the town. The Archaelogical Museum, opened in 1976, on the S side of the inner ring road (Odos N. Zoidhou) houses finds from the whole of Thrace. The objects are attractively displayed and it should not be missed. Outside is a fine Roman sarcophagus with garlands and bucrania. Within, outstanding is the unique gold imperial Bust of Marcus Aurelius found at Plotinoupolis. Also displayed are a remarkable phallic altar; a Clazomenian sarcophagus from Abdera and fine objects from graves at the same site; Archaic pottery and a grave stele from Dikaia (part formerly in Athens); interesting votive plaques from the Sanctuary of Demeter at Mesembria; finds from the Paradhimi tomb and tombs at Ardhanion and Orestiada; honorific decrees from Doriskos and Maroneia (4th BC); also from Maroneia, an inscribed marble block (3rd BC) with impressions of feet and a fine relief of a Thracian rider (4th BC); case of Greek, Roman and Byzantine coins; ground plans of Stryme, Mesembria and Maroneia.