The modern town of Larissa, capital of Thessaly, administrative, commercial, industrial and cultural center of the province, straddles the river Pineios. Tradition has it that Hippocrates (460-377 BC), Father of Medicine, spent his final years and died here.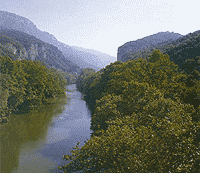 Sights: The acropolis on Aghios Achilleios hill, the Early Christian basilica in the fortress and the bishop's palace (6th c.), the ruins of a three-aisled basilica with important mosaics and wall-paintings (late 4th-early 5th c.), the ancient theatres A and B, the Alkazar park with its 2500 seat garden theatre and refreshment room, the grove with the small theatre.
Museums - Art Galleries:
Archaeological Museum, tel.: (0410) 28.85.15
Folklore - Historical Museum, tel.: (0410) 23.94.46
Art Gallery, tel.: (0410) 62.12.05
Larissa has a permanent theatre company, the "Thessaliko Theatro".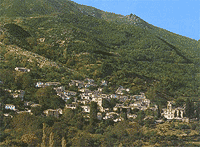 Places worth visiting in the prefecture:
Tsaritsani, a traditional village 38 km northwest of Larissa with stone-built mansions, tower-houses, interesting churches and old monasteries; Aghia, 37 km northeast of Larisa, with old monasteries and churches; Elassona, 42 km northwest of Larisa with the PanAghia Olympiotissa Monastery (14th c.), built on the hill of the ancient acropolis; the unexplored cave at Kefalovrysso, 14 km west of Elassona. One of the finest landscapes in Thessaly, if not in Greece as a whole, is the enchanting Valey of Tempe, a natural monument of rare beauty.
Flowing through the middle of Tempe, between the slopes of Mounts Ossa and Olympos, is the river Pineios, its rushing waters entering the Aegean sea. Its estuary is an important wetland reserve proltected by the Ramsar Convention.
On the slopes of Mount Ossa, opposite the Valey of Tempe, is the historic village of Ambelakia, 34 km northeast of Larissa. It is a scheduled traditional settlement with interesting architecture. The famous Schwarz mansion, built in 1787, is now a house-museum, with its murals, woodcarved decoration, stained-glass skylights and elaborate fireplace. The churches of Aghios Georgios, Aghios Athanasiqs and Aghia Paraskevi also merit a visit. The women of Ambelakia have sert up a Rural Tourism Co-operative, which runs a few rooms to accommodate visitors, tel.: (04950) 93.487, (04950) 93.903.
The prefecture's extensive beaches are ideal for swimming and sunbathing: Agiokampos, Velika, Kokkino Nero, Karitsa, Stomio and Nea Messangala.