Karditsa, the capital of the prefecture, is built near a tributary of the Pineios, in the heart of the rich Thessalian plain.


Sights: The renovated municipal market, the "Pafsilypo" park, the Greek Orthodox cathedral (metropolis) of Aghios Konstantinos, the church of the Zoodochos Pigi (Life-bearing Source).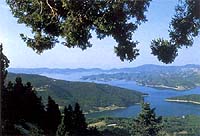 Museums - Art Galleries:
Folklore Museum, tel.: (04410) 25.301
Christian Museum
Municipal Art Gallery
Located 18 km southwest of Karditsa, 1,150 m asl, is the historic Korona Monastery, a religious and cultural center during the Ottoman period. One of the most important sights in the prefecture is the man-made lake of the river Tavropos or Megdova, known as Lake Nikolaos Plastiras, in honour of the distinguished general and politician from Karditsa who in 1925 conceived the idea of building a dam. The dam was constructed in 1959, at an altitude of 1,000 m, and supplied the whole of Thessaly with water and hydroelectric power. There are tourist amenities in the lake's idyllic surroundings. The medicinal springs at Smokovo and Kaitsas;

Philia with ruins of an Early Christian basilica (5th c.) on the site of the sanctuary of Athena Itonia; the Mycenaean tholos tomb (1500 BC) outside Georgiko; ancient Gomphoi near Mouzaki; ancient Kierion near Sofades; the twenty mountain villages of Agrithea with their traditional architecture and stone bridges; the highland town of Rendina which is a characteristic scheduled settlement; the Petra Monastery near Lambero are just some of the many places of interest in the prefecture.