This small, rocky island lies 44 n.mi. northwest of Chios. Its single settlement, also called Psara, has a Cycladic look.
Visitors wishing to stay here will find comfort in addition to peace and quiet in the traditional buildings which the GNTO has renovated and converted into guest houses. In the village of Psara there is a small Archaeological Museum with excavation findings.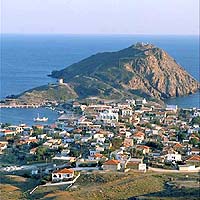 Among these findings are pots and amphoras, which are believed to have belonged to the ancient city on which the island's settlement is built.
The Church of Agios Nikolas, at the end of the small settlement of Psara, is one of the most significant sights on the island. The small church is a historical monument of the island since Psarian people declared the beginning of the Greek Struggle of Independence of 1821.
The Monastery of the Assumption of the Virgin stands on Mount Profitis Ilias's summit. We have no definite information concerning the date of its founding.A small extract, from the archives of the monastery which was destroyed in a Turkish raid, informs us that it was built during a time of peace.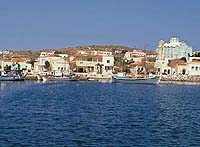 The church of the monastery has two marble plates with bas relief depictions of a two-headed eagle under a escutcheon who holds a skeptre in one hand and two keys in the other. In its library, there are rare, hieratic scripts printed in Venice and Moscow which are said to have been brought from Mount Athos and Skiathos by the first monks.
Palaiokastro lies on the south-western side of Psara on the peninsula of the same name. It was built in the 15th century by refugees who came to the island from different places in the pursuit of liberty. They first built the castle and then the rest of the town. In 1824, the castle witnessed the heroic struggle of the Psarians and the massacre of the women and children. In recent years, remains of a prehistoric Achaean 13th century BC settlement were found in the same area. Namely, in 1962 ruins of fortification walls and Mycenean tombs were excavated in the Arhondiki location. This, in spite of the fact that all the north-eastern Aegean islands belonged to the Trojans by that time.