Lesvos is the island of harmony, beauty and serenity. A place where melody and lyrical thought flowered, where the praises of Virtue and Beauty were sung. Birthplace of Sappho, Arion, Alkaios and Terpander, Lesvos is a gem in the deep blue waters of the Aegean Sea.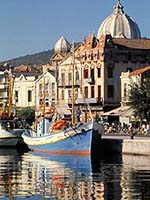 Endless expanses are painted in the silvery hue of the olive tree. There are eleven million olive trees on the island, spread over a large part of it. The rest is planted with plane trees, chestnuts, oaks, vineyards, fruit trees, vegetables gardens, pasture-land and thick pine forest. Combinations of light and shade form fascinating compositions amidst the lush vegetation in the magnificent gulfs of Yera and Kalloni.
Lesvos is located on the gulf of Adramyti, the eastern border of Europe. Its climate is warm and temperate, with mild winters and riotous springs and it claims more sunny days per year than any other Aegean island.
The third largest island in Greece after Crete and Euboea, it covers an area of 1630 sq.km., with a coastline of 320 km. and a population 88603.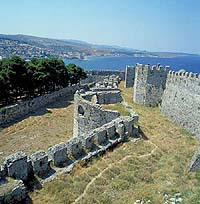 The majority of its inhabitants work in agriculture (olive cultivation) and animal husbandry, others are employed in fishing and tourism. Lesvos island is well known as the island of poets and novelists. Deep roots of Greek civilization and famous ancient greek names date back to many centuries B.C.: The philosopher Theorfastos, the historian Theophanes, the guitarist Arion, the composer Terpander, the poet Alkaios, and the greatest lyric poetess Sappho, even Homer himself is said to be from Lesvos. The lesvian ruler Pittakos was among the Seven Sages of antiquity. The cultural tradition continued through the centuries. Venjamin of Lesvos was a prominent scholar during the years preceding the liberation of the island from the Ottoman occupation. Carrying on the heritage in the contemporary years, Odysseas Elytis, Nobel lauerate in Literature was another Lesvian figure. Here is a poem from Elytis for the last Emperor, Constantinos Palaiologos. Other names include Argiris Eftaliotis, Elias Venezis, Stratis Myrivilis, Kostas Kontos, Kostas Friliggos, Kostas Makistos, Pepi Daraki, Stratis Paschalis, Dimitrios Vernadakis, Miltiades Kountouras, to name a few.
Lesvians are also proud of the contemporary painter George Iakovidis, the folk painter Theophilos and the internationally acclaimed art critic Teriade. The ferries of our local maritime company are named after the legends of our cultural past: 'Sappho,' 'Homer,' 'Alkaeos,' 'Mytilini,' 'Ag. Rafael,' and the newest one, 'Theophilos' ferry people and goods with an overnight cruise from Pireas, the Athenian port to Mytilini. 'Arion' and 'Odysseas Elytis' were also past members of the fleet. Quite frequently the island is identified with Mytilini, its capital city. Located at the North East of the Aegean Sea, we are all but proud islanders. Our national drink is ouzo and our national product is olive oil, made from some eleven million olive trees on the island.