This group of nine tiny islands lies 9 n. mi. east of Chios. Only one, Inoussa, is inhabited so that its beaches are deserted and the landscape completely unspoilt. One can reach Inousses by boat from Chios and, in summer, from Piraeus as well.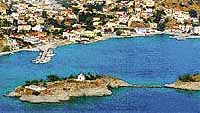 Adorned by beautiful vegetation, Inousses is a get away from tourist-filled resorts. It is very quiet offering the pleasures of peaceful relaxation away from the crowds. In the capital village of the island, which is also its port, the visitor will have a chance to visit the maritime museum, home to paintings of famous Greek artist Aristidis Glykas, as well as a collection of models depicting ships employed in the Napoleonic wars.
The small picturesque town of Inousses, or Egnousa, with its 500 inhabitants, has been distinctively declared a municipality and is built on the southern side of the island.

Its inhabitants, who are mostly fishermen or occupy themselves in the production of the famous local wine, are people with free spirits, gentle manners and cheerful characters. The snow white houses of the village are made of stone, like its mansions, which are majestic and typical examples of traditional architecture. Most of the public buildings and the works of embellishment of the town carry the stamp of their donors.
In front of the harbour stands the bronze statue of the mermaid that the locals call "Metaira Inoussiotissa" (Mother of Inoussa) and is believed to protect the ships approaching the harbour. In Inoussa, with its great marine tradition, there is a remarkable Marine Museum, which houses the precious miniature collection of Antonis Laimos, with ship models from the Napoleon Wars, as well as works by the popular painter, Aristeides Glykas, pictures, lithographies portraying ships from the beginning of the century, books and local costumes. In the centre of the town, there is the church of Agios Nikolaos, who is the patron saint of the island, while in the quiet small tavernas all kinds of seafood delicacies are served, as well as the famous "boureklikia", made of dough stuffed with various vegetables. A 10 minute distance from the village lies the notable Monastery of Evangelismos.