A cheerful port area, a number of beaches, very little accommodation and some excellent tavernas sum up what you can expect on Fourni. Believe us, there is very little else on this most unspoilt of unspoilt, lesser-known Greek Islands.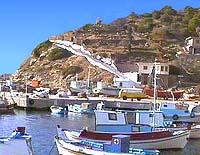 Fourni is between Ikaria and Samos, a tiny island adorned by a beautiful coastline. Fourni is home to very few fishermen and merchant marines.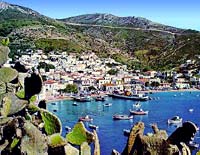 There is only one small fishing village on the island and moving around is done strictly on foot. There are many hidden-away coves and beaches with crystal clear waters and fine sand awaiting only the adventurous to discover them either on foot or by fishing boat.
The largest of the three small islands that form the group of Fourni islands are Korsi (Fourni). Its approximately 1,200 inhabitants, which are mostly fishermen, live in the only settlement on the island. There are small fish-tavern as where the famous snack of the island, grilled lobster, is served. From there one can hire a small caique and visit the beautiful beaches and the picturesque bays of the island, which are ideal for those who want isolated holidays close to nature or to visit the monastery of Agios Ioannis (St John) on the nearby island called Thymaina.