Agios Efstratios, also known as Ai Stratis, is a small volcanic island of 49 sq.km that lies to the south of Lemnos.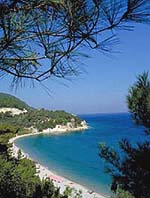 It took its name from Agios Efstratios (St Efstratios), a monk from Vythinia, who came to the island in the 19th century and died there of old age. Some scientists identify the island with the ancient Alonissos.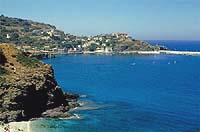 For many years it was used as a place of exile. The only settlement of the island, Agios Efstratios, was transferred from the hillock to the seaside, after the earthquakes of 1967, when it was completely destroyed.
Today it is suitable for quiet vacation, close to the nature, with its picturesque and clean sandy beaches. The most noted one is the village beach. Other beaches worth visiting are Agios Antonios, Agios Dimitrios, Trygari, Trypiti, Ftylio, Gournia and many more that can be reached on foot, as there are no cars on the island. One can make a round of the island trip with a boat and aproach the most secluded beaches. The beautiful island Velia that lies opposite of Alonitsi beach is also worth visiting. The popular fair that is held on the 15th of August concentrates the interest of the people, as it is followed by a traditional feast.