This is the region where you can combine your mountain holiday with a vacation by the sea.
Not only will you find the Thermaic coast enchanting, you'll also admire Olympos, the mountain of the gods. Pieria is thickly forested, with plane trees, pines, poplars and firs on Olympos.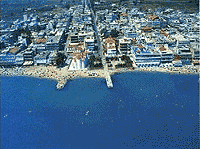 The capital of this prefecture, Katerini, lies between the plain of Pieria and Mt. Olympos.
Some 32 kilometers southwest of Katerini, the village of Aghios Dimitrios is built on a plateau where there are water and trees galore.
The road to Siena tis Petras, the pass to Thessaly, is truly exciting, as is a walk up the impressive Olympos Gorge.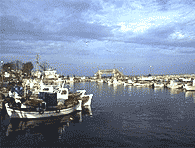 At Dion, 17 kilometers south of Katerini, archaeologists have brought to light the extensive ruins of the Macedonians' sanctuary of the gods.
Amidst the lush vegetation and springs of the Pierian plain, just before the ascent to Olympos begins, one can see the ruins of the sanctuary buildings – the temples, two theaters and a stadium – while next to them, to the north, the remains of the ancient city of Dion stretch out. It was closely associated to Zeus as its name implies (in Greek the god is called Dias).
Thousands of Macedonians used to flock to this place for the festivities and games dedicated to the god, which grew in importance after the 5th century B.C.
Among the sacred buildings, the following are the most notable: the sanctuary of Demeter, two temples dating to ca. 500B.C., the Asklepieion, and the whole shrine dedicated to Isis, with its idols still standing on their bases. The city of Dion was well fortified by the wall erected in the 4th century B.C., and it had a splendid layout. The excavations have exposed flagstone streets, public buildings, shops, workshops, and houses, as well as the orchestra, stage and lower seats of Dion's large theater. In the vast cemetery, to the north and west of Dion, there are four subterranean, brick-roofed Macedonian tombs.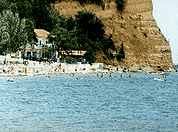 In the 5th century A.D. violent earthquakes brought an end to the city's prosperity.
Nevertheless, enough remains of it to give today's visitor a good idea of the beauty of the town with its ample public spaces, theater, numerous statues, and impressive fortifications.
To come back to the present, Leptokaria (23 km. from Katerini) has a lovely beach long enough to attract crowds of Greek and foreign tourists each summer. Other seaside resorts are Methoni, Nea Agathoupoli with its splendid fishmarket, Aghios Panteleimonas with its Venetian castle, Platamonas with its sandy beaches, and Makrigialos with the ruins of ancient Pydna.
Finally, on the slopes of Olympos, is the small town of Litohoro (24 km. from Katerini), an old summer resort and the starting point for those wishing to climb the legendary mountain.
The enchanting valley of Enipeas with its river coming down from Olympos is worth visiting.