Gorgeous scenery, fascinating historical monuments, superb beaches, plus all the services and facilities accompanying sound tourist development await the visitor to Kavala, one of the gems of eastern Macedonia.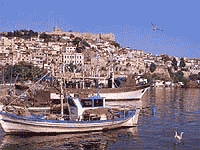 A city with a distinguished past, Kavala occupies the site of ancient Neapolis. Its buildings rise like the tiers of an amphitheatre up the slopes of Mt. Simvolo, overlooking the picturesque harbour. The area has been settled since Neolithic times (3.000 B.C.), while Antisara, covering the present vilolages of Kalamitsa and Kipoupolis just outside town, was founded in the 5th century B.C. Neapolis, of somewhat later date, knew great prosperity thanks to its strategic location in the region: its proximity to the gold mines on Mt. Pangeo, on the one hand and its position on the main trade route uniting East and West, on the other.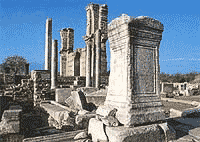 Much later, in commemoration of St. Paul's visit, Neapolis was renamed Christoupolis.
Over the course of time, the region of Kavala had a turbulent history of invasions, wars and oppression before evolving into the important commercial center it is today. Besides having an active port, Kavala is the capital of the tobacco industry in Greece.
Although a modern business center, Kavala, is amply endowed with charms to attract and captivate any visitor, for it has managed to hold on to many features of its former appearance, resulting in a graceful balance of old and new. The spacious squares, contemporary constructions, shops and warehouses on the West side of the city blend harmoniously with the old houses with their gardens and enclosed balconies that jut out over the flagstones of the narrow alleyways on the east side. Traditional and modern meet and merge both in Kavala's architecture and its layout. Furthermore, its up – to – date facilities for tourists, its nightclubs and its tavernas provide all the amenities while offering endless possibilities for a most pleasant stay.
Kavala's harbour is particulary beguiling, filled with dozens of brightly coloured fishing caiques bobbing up and down at the quay before they set out at twilight, lamps lit for the night's adventure.