Kastoria, the capital of the prefecture of the same name, is one of Macedonia's most picturesque cities. Built on the shores of a lovely lake, it delights the visitor with its old neighbourhoods, its narrow lanes, stately mansions and Byzantine churches.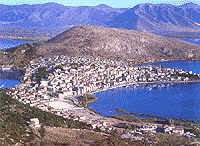 The city flourished, both culturally and economically, during the Turkish occupation, particularly in the 17th century and afterwards. Since that time, the people of Kastoria have dedicated themselves to working with furs and to embroidery.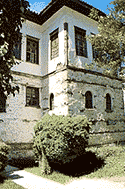 Even today, the city boasts a large number of very profitable fur and textile ateliers and factories.
Kastoria has more than 70 Byzantine and post-Byzantine churches, dating from as far back as the 9th century up to the 19th. Most of their walls are filled with frescoes of exceptional quality.
The city's famous mansions of the 18th and 19th century are also a sight to see. They are usually three-storey edifices with large windows, enclosed balconies and projecting "sahnisia". Their interiors are spacious and sumptuously decorated with woodcarving and wall paintings.
Don't miss a visit to the Folk Art Museum, housed in one of the mansions.
Lake Kastoria is especially beautiful in autumn and spring, the best seasons to get to know the town. At various points round the lake you'll find restaurants, tavern as, rotisseries, and cafes for gazing at the lake and reflecting on what you've seen.
Argos Orestiko (10km. from Kastoria) is fast developing into a boom town, thanks to the opening of weaving and fur-processing factories there.
There are many pretty villages in the district, perched on hillsides, surrounded by firs and willows, as well as lakeside settlements with tavernas specializing in fish from the lake.