If you're in the mood for quiet, clean mountain air, forests, mountain climbing, skiing, riverfishing, then surely this is the place for you.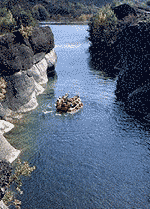 For Grevena's extraordinary natural beauty not only astounds but captivates the visitor, though one should not expect luxurious accommodation or riotous nightlife.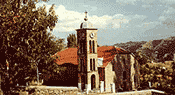 The prefectural capital is Grevena, built 543 meters above sea level on the banks of the Grevenitis river, a tributary of the Aliakmon.
The town possesses restaurants, tavernas, rotisseries, a cinema and an open-air theater. Every summer the theater hosts concerts, plays performed by the State Theater of Northern Greece, and appearances by Greek and foreign folklore ensembles.
You can visit the villages in the district by bus, or if you have your own car, proceed with caution.
One of these villages is Zakas, 23 kilometers from Grevena, set at an altitude of 900 meters.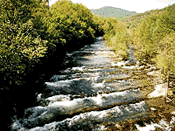 There are two caves worth visiting, one at Mt. Orliakas and the other near the village named Spileo (cave), which stands on a cliff. At Paliouria (47 km.), don't miss the Byzantine monastery of the Virgin Evangelistria and the monastery of Ossios Nikanor founded in 1534 not far from the Aliakmon River. The frescoes decorating its main church resemble those in the Varlaam monastery at Meteora and are most probably the work of the same painter, the famous Frangos Kastellanos.
One place of exceptional loveliness and a good place to spend a summer holiday, is the village of Perivoli (45 km. from Grevena).
Samarina, another charming village, is built on the slopes of Mt. Smolikas, 1.450 meters above sea level. Here the lush greenery and spectacular scenery cannot fail to please.
Other villages that deserve a stop – all of them overlooking forests of firs, pines and willows – are Kipourio, Krania, Deskati, Avdela, Polineri, Smixi and Alatopetra, to mention only a few.