The island's main port is Linaria. There are many lovely beaches and low mountains to explore, caves for some underwater fishing, and even ponies – the only ones in Greece.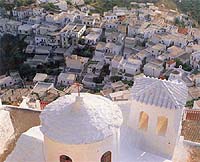 At the tavernas you can savour fresh fish, lobster and the local cheeses.
The town of Skiros, also called "Horio" locally, clambers up a hill in a white half circle, like an ancient theater. On its top stood an ancient acropolis, one of the best strongholds in the Aegean. In Byzantine times it turned into a fortress. There are remains of Byzantine and chiefly Venetian fortifications to be seen today on the site.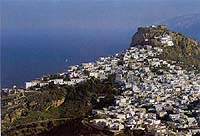 According to legend, it was on this ancient acropolis that Thetis hid her son Achilles, where, dressed as a girl, he was brought up as one of King Lycomedes' daughters in order to escape the Trojian War. Theseus is also supposed to have met his death here.
Under the castle there is the monastery of Saint George (Ai Giorgis Skirianos) founded in 962 and dominating the whole island. In Horio, there are two interesting museums: an archaeological as well as an historical and folkloric one.
Every skyrian house down to the poorest is a living museum of popular art, with beautiful handcarved furniture, embroideries, baskets and all kinds of handicrafts.
Also of great interest is the original architecture of the houses, with their pebbled entrances, picturesque roofs, hearth and other impressive features. In the folk art shops you will be able to find beautifully hand-carved stools, embroidered articles, hand-woven materials, rugs, original clay and copper utensils, chests and furniture.