It's green, soft and idyllic, with some 70 sandy inlets; several bays and three harbours. Its highest wooded summit ripes to 438 meters.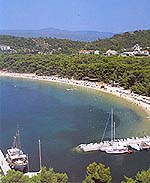 Around the island there are no less than 9 smaller islands. Two of these, called Tsougries, lie across the main harbour offering safe anchorage to boats, with a small marina for yachts.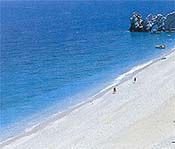 The principal town, also called Skiathos, was built in 1830 on two low hills. It is the hub of the tourist summer season, with several hotels, neat villas and rooms to let for any lenght of time. Of interest in the town is the home of the Greek writer, A. Papadiamantis, who immortalized Skiathos in his short stories. There is a good road in Skiathos, which hugs the southern coast with its many lovely bays, linking the town with Koukounaries – the famous pine grove – and the beach of Aghia Eleni. Another road connects the town with Asselinos. A convenient way to get to know the island is by motor launch. They run at regular intervals to the more popular beaches for a moderate fare.
Food of all kinds, especially fruit and vegetables, are plentiful. If you prefer to eat out, there are tavernas and self-service restaurants.