City and capital, department of Arta, Epirus (ancient Epirus) region, Greece. It is situated on the left bank of the Arakhthos River north of the Gulf of Arta.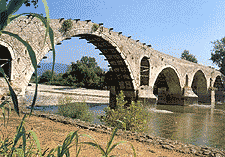 The modern city stands on the site of Ambracia, an ancient Corinthian colony and the capital (from 294 BC) of Pyrhus, king of Epirus. In 189 BC it was destroyed by the Romans. To commemorate his victory (31 BC) over Mark Antony at Actium, Octavian (later Augustus) founded the new town of Nicopolis Actia a few miles away; as a result, Ambracia declined. Arta's modern history dates from the destruction of Nicopolis Actia in the11th century AD by the Bulgars. A Byzantine bishopric, Arta survived a Norman seizure (1083) and the Greek despots of Epirus, passing in 1318 to the Orsini family of Cephalonia.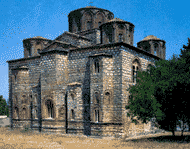 It was captured by the Turks in 1449 but soon passed to Venice; after a brief period of French rule, it came again under the Turks. In the 16th and 17th centuries it was noted for its academic institutions. It was fought over several times during and after the War of Greek Independence (1821-29), but in 1881 it was ceded to Greece by Turkey. The seat of a metropolitan bishop, Arta is a prosperous agricultural town surrounded by groves of orange, lemon, and citron trees. It also produces woolens, cottons, and embroidery.
On the ancient acropolis are remains of a Byzantine fortress, and outside the town are several late 13th- and 14th-century churches and three 13th-century monasteries. The actual city spreads like an amphitheater at the foot of the Peranthis hills, crowned at the tip with a Byzantine fortress, it holds a population of 40,000 and is located 365 km from Athens. Arta is primarily characterized by the large number of interesting Byzantine monuments.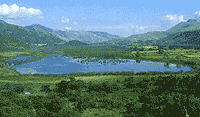 The emblem of the city is the famous bridge of Arta. It is renowned for its architecture and the legend involving the master of the work, who is supposed to have buried his wife in the foundations.It dates back to the time of Pyrrhus, but has been subject to several transformations and adjustments. The legend of the bridge of Arta is the theme of six theatrical plays, two operas and a number of folk studies.
The monuments of ancient Amvrakia that still remain to date are: the theater (IIIrd C. BC.) discovered recently, the foundations of the Doric temple of Apollo Pythios (Vth C. BC.), a part of an ancient wall, and the base of a monument from the VIth century BC. The fortress of Arta was built in the XIIIth Century at a section of the ancient wall. Its appearance is actually on the results brought upon by the Turkish occupation. It is presently used as a municipal theater (one of the best at national level) where many different cultural and traditional activities take place.