Modern Greek RODHOS island, the largest of the Dodecanese group and the most easterly in the Aegean Sea, separated by the Strait of Marmara from Turkey.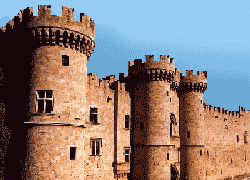 Rhodes city, on the northern tip of the island, is the capital of the department of Dhodhekanisos. The 1,398-sq-km island is traversed northwest-southeast by hills that reach 1,215 m in the summit of Ataviros. The peak commands a view of the coast of Asia Minor, the Dodecanese archipelago, and, on clear days, the summit of Mt. Ida on Crete.
Minoan remains at Ialysus are evidence of early Cretan influence.
With the collapse of the Minoan civilization (c. 1500-1400 BC), Rhodes became a powerful independent kingdom with a late Bronze Age culture.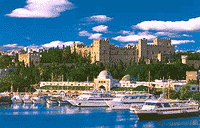 In historic times Rhodes was occupied by Dorians, mainly from Argos, c. 1100-1000. The Rhodian cities of Lindus, Ialysus, and Camirus, along with Cos, Cnidus, and Halicarnassus, belonged to the Dorian Hexapolis (league of six cities) by which the Greeks protected themselves in Asia Minor. The Dorian cities of Rhodes traded throughout the Mediterranean and founded colonies in Italy, Sicily, Spain, and Asia Minor and dominated several Aegean islands.
In the classical age, Rhodes was famous as a centre of painting and sculpture and had a noted school of eclectic oratory at which the Romans Cato, Julius Caesar, and Lucretius were students. Rhodian sculptors were prolific. Among extant works is the Laocoon group executed by Polydorus, Athenodorus, and Agisandrus.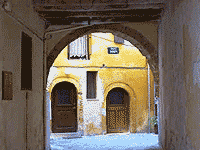 The island has yielded an array of artifacts from the Mycenaean and later periods, but no Mycenaean palaces have been unearthed as in Crete and the Peloponnese. Outstanding among the ruins of Lindus is the temple, or sanctuary, of Athena Lindia, which dates from the 5th to 3rd century BC.
With Crete and Athens, Rhodes enjoys an increasing year-round tourism, which has brought great prosperity. The economy is supplemented by the production of red wine, grain, figs, pomegranates, and oranges.
Rhodes is the largest of the Dodecanese islands with the best sunshine record in Greece. It offers lush greenery and cool mountain springs as an alternative to the sandy beaches and bustling town life. The island is the crossroads where East meets West. Its outstanding monuments of Ancient Byzantine and Medieval Greece are reminders of its turbulent history. The Old Town of Rhodes and the Palace of the Grand Masters overlook the Mandraki Harbour which is guarded by two bronze deer. This is supposedly where the legendary Colossus, one of the Seven Wonders of the Ancient Word, once stood. Lindos is the site of the famous Doric temple Acropolis which every visitor must visit.