Situated to the south of Tilos and west of Rhodes, Chalki has been inhabited since antiquity, when it must have been very prosperous, judging from the coins found by archaeologists.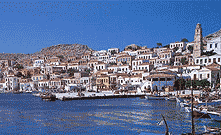 Its name most probably reflects the copper ore (halkos) once mined there.
It is a small but mountainous island, just 28 square kilometres in area.
The island capial cum port is called variously Chalki or Nimborio. Situated on the southeast coast, its two-storey houses with their tile roofs seem to climb up the sides of the hill overlooking the bay of the same name.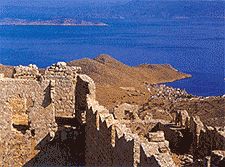 Worth a visit is its church of Aghios Nikolaos, built in 1861, whose magnificent bell tower soars above the surrounding houses.
In earlier times, the capital was at Horio, which was placed well inland in an effort to escape the frequent pirate raids that were once the scourge of the Aegean. At its peak, it boasted 4,000 inhabitants; nowadays it is virtually deserted. Its stone houses, built in tiers like an amphitheatre, are mute reminders of its past prosperity. Above Horio the ruined mediaeval castle occupies the site of the ancient acropolis. Within its walls is another church dedicated to St. Nicholas (Aghios Nikolaos) with frescoes.
Pontamo is the only beach in Chalki accessible on foot from Nimborio (10 min.), but caiques are on hand to take you to its other wonderful beaches: Trachia, Ftenaghia, Sarri, Chania and Dyo Villi.