Distance from Piraeus:169 c. miles - Area: 97 km2 - Population:1.034
Astipalaia island, is the westernmost of the Greek Dodecanese Islands, between Amorgos and Cos (Kos).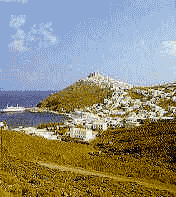 With an area of 37 square miles (97 square km), it comprises two mountain masses linked by a narrow isthmus that provided shelter for the ancient Roman fleet. Astipalaia, called Ichthyoessa (Island of the Fish) by the ancients for its rich fisheries, resembles two islands linked by a natural bridge. The island's capital, Astipalea or Chora, is crowned by a Franco-Byzantine castle whose outer wall largely consists of houses. There are two churches in the castle; underneath it lies Panagia Portaitissa the most beaatiful churches in the whole of Dodecanisa. The western hills rise to about 1,500 feet (450 m) and the eastern hills to about 1,200 feet (365 m). The coast is much indented, with high cliffs rising precipitously from the sea. Also the capital of Astipalaia, forms a commune with the port of Periyialion on the west side of Maltezana Bay.Perhaps a Cretan possession before 1400 BC, the island was colonized by Dorians from Epidaurus in the eastern Peloponnese (Argolis); the dialect spoken today reflects Argive origins. In turn the island was subject to Athens, Macedonia, and Egypt, but it remained largely independent during the Roman period. From AD 1207 to 1522 it was ruled by a Venetian family, but it then passed to Turkey, which held it except for two periods (1648-68; 1821-28) until 1912, when it became the first of the Dodecanese to be occupied by Italy. The island was restored to Greece after World War II.