The coastline of this predominantly mountainous island with its countless chapels, its olive trees, its vineyards and its limpid air, is adorned with small, attractive coves. Those features combine with the crystal-clear sea, the superb sandy beaches and the good range of amenities to make los a magnet for tourists.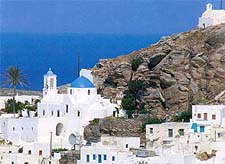 Locally called Nios, this is an island whose history goes back to prehistoric times. According to Herodotus, the "poet of poets", the "god-like" Homer was buried at Plakotos, in the north of the island. Pausanias tells us that there was an inscription at Delphi confirming the poet's interment on Ios, which was the homeland of his mother, Clymene.
Above the pretty harbour of Ormos, where fishing-boats and yachts bob at anchor, stands the capital of Ios or Hora. The town stands on the site of the ancient city of the same name and is a typical Cycladic settlement, with whitewashed houses, narrow alleys and chapels. Among the churches, those of St. Catherine, St. John the Baptist and Sts. Cosmas and Damien stand out.
The whole beautiful image is rounded off with the bulk of the medieval castle and the row of windmills, which top the town.
The sites of Ios include a Hellenistic tower and the remains of an ancient aqueduct at Aghia Theodoti, traces of an ancient temple at Psathi, a ruinous Venetian castle at the spot known as Paleokastro, and the Hellenistic tower at Plakotos, which we have already mentioned.
The Archaeological and Folkloric Museum in Hora and the Museuml of Modern Art (Drot-Gaiti) at Kolitsani are also worth a visit.
Lovers of the sea will be enraptured by the superb beaches of los, some of them busy (such as Milopotas, near Hora), and others no less attractive but much quieter (Aghia Theodoti, Psathi, Kalamas, Plakes, Tzamaria, Kolitsani and Manganari). The authentic Cycladic beauty of Ios, in combination with the island's rapid development for tourism, has had the effect of attracting ever-increasing numbers of visitors.