From a distance, Anafi, in the south-east comer of the Cyclades, looks like no more than an isolated rock in the ocean.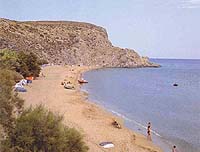 According to the myths, the Argonauts sought refuge from a storm on the island.
Archaeological fmds have demonstrated that Anafi was inhabited in antiquity. A road leads from the picturesque harbour of Aghios Nikolaos up to Bora, the only settlement of any size, built on a naturally amphitheatrical site in the centre of the island.
The monastery of Our Lady "Kalamiotissa" (18th century, standing in the precinct of a temple of Apollo Aegietus), the Venetian castle near Hora, and the church of Athanasius are among the special sights.
The beaches of Anafi, whether sandy or pebbly, are lapped by crystal-clear water. The local religious feasts are very lively, and so are the island dances.
A few rooms are available for rent on the island for those who enjoy quiet holidays close to nature.
There are infrequent ferry sailings for Piraeus.