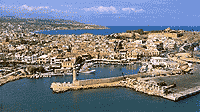 Rethymno on the north coast, lies on the island's longest sandy beach and is known by visitors as the "hidden jewel" of Crete. Since 1400 B.C. the Minoans, Venetians, Turks and Cretans have built their ancient cities, minarets, citadels, the hilltop Fortezza, winding narrow streets, fishing harbour and lighthouse which create an old-wolrd charm. Situated at about equal distances from Heraklion (80 Km) and Hania (65 Km), Rethymnon is also only a short distance from the most spectacular countryside making it an ideal centre to explore the island.
Rethymno is the capital of the Prefecture (Nomos) of Rethymno. The main mass of Mountain Psiloreitis (2,456 m.), the highest mountain on Crete, commands the prefecture to the east. Along the north coast,one can see and visit to the east one of the largest sand beaches in Crete (12 km) and to the west a rocky coastline that ends up to another large sand beach after 10 km.
Today Rethymnon is the administrative, communications and commercial center of the Prefecture with approximately 25.000 residents.
You can visit:
 The Great Gate, one of the old city gates left over from the Venetian fortifications of 1540-1570.
The Loggia, mid-16th century, was a social club where the lords and noblemen used to meet and relax. It is now the Archaeological Museum containing interesting archaeological finds from the region as well as a fine coin collection.
The Rimondi Fountain, north of Petihaki Square, a 17th century work.
The Fortezza, north of the city, on Paleokastro Hill,the small but well preserved fortress. Built in 1574, it offers a marvelous view of the city and the sea.
The facades of Venetian houses, most of which are found in the old city.
The small but picturesque Venetian harbor.
The churches of San Francesco and Our Lady of the Angels, known as the church of the "Little Virgin" (Mikri Panayia).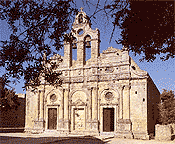 The Monastery of Arkadi (Moni Arkadi) (23 km. southeast of Rethimno), built in the 16th century in a wonderful natural setting. It is linked with memorable events in the island's struggle against Turkish oppression. There is a tourist pavilion outside the monastery.
The Monastery of Preveli (36 km. south of Rethimno). A historic monastery well worth visiting with a small museum and beautiful view of the Preveli lagoon.
The Europa Nostra awarded holy monastery of Aghia Irini, Rethymno.