Poros is a thickly-wooded island lying just off the Peloponnese mainland township of Galatas. It is made up of two islands, linked by a narrow neck of land: Kalavria and Sphaeriaon which the town of Poros is built.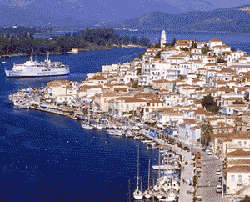 Ferries leave for the mainland where there is a famous lemon grove and the remains of ancient Trizina, the legendary birthplace of Theseus. Sandy beaches, at Askeli and Neorio, are also accessible by ferry. Coming into Poros gives the illusion of the deep dream. Suddenly the land converges on all sides and the boat is squeezed into a narrow straight from which there seems to be no eagress," said Henri Miller. Poros is a delight for photographers.
Exactly above the picturesque harbour, the town is built amphitheatrically on two rocky hills. While the ship is entering the straight of Poros, it narrows to approximately 400 meters. You will immediately see the panoramic view of the picturesque island town on one side, and the densely green Galata town on the other. The stay in Poros was about 1 hour during which you were able to stroll across the quay into the narrow streets of the town and taste the local pastry "galactoboureko", do some shopping and have a drink in one of the cafes on the sea front. The beautiful island of Poros is characterized by lemon forests, olive groves, crystal waters and wooded coves.