Angistri is located about 20 miles south of Athens and about 5 miles from the major island of Aegina. There is direct ferryboat service from Pireaus, the port of Athens. Fast, large catamaran ferries make the trip in less than one hour; also, there are the more frequent conventional ferries that take about 2 hours. There is also ferry and water taxi service available from Aegina to Angistri.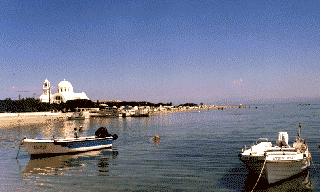 Angistri is small - approximately 8 square miles. The year-round population of the island is less than 1000. Summer tourists (mainly from throughout Europe) add another 2000 or so. The active season is mid-April to mid-October.
The vaction rental is located in the town of Milos. The village has small hotels, restaurants, grocery stores and a bakery to meet basic needs. Virtually anything you might need for a visit on the island is available within a short walking distance.
Angistri's other major village, Skala, is approximately a mile away. It is attuned to the singles scene and has many shops, restaurants and bars that offer a change from the relative quiet of Milos. Although there is a small bus that operates between the two villages, the walk is pleasant on either the inland road or the beach road.